Traveling Athletes
As covid sweeps the states, these athletes remain committed to their sports
  Two Ford vans stuffed with wrestling students speed down the Mckenzie Bend Highway, headed from Albany to Farmington, Utah. Sophomore Ariana Martinez sits inside, the only girl in a van full of boys, waiting for her moment on the mat. Like many students at West, Martinez is part of a traveling sports team called Salem Elite in which she has had a total of four wrestling tournaments since July, meaning she has spent days at a time on the road. Even as Covid rages on in the US, Martinez would never give up her high school wrestling experience because of a virus.
     "I continued to do it because honestly at this point I feel like it's really one of the most important things to me in my life right now," Martinez said, "It's exhilarating and…it's one of the things that makes me happiest".
     As deep as Martinez's love for her sport goes, being on the road for as long as she has comes with problems, even without the addition of Covid. Martinez does something called cutting weight for wrestling, in which she lowers her weight in order to make it into the upper portion of the weight class that's one step below her natural weight. By doing this, Martinez will go from being in the lower end of one weight class to the upper end of another, which gives her the advantage against her opponents. Unfortunately, cutting weight is incredibly difficult when it comes to sitting around for 12 hours and controlling food intake. 
     "Travelling is pretty hard sometimes, especially with wrestling. I feel like if it was a different sport it wouldn't be as hard to travel so far," Martinez said, "because with wrestling you have to [watch your] weight"
        The process of cutting weight can influence more than just eating habits on the van ride, though. It can also lead to covid-like symptoms, such as stomach pain or fatigue,  which can be alarming when traveling so much. Many athletes on Martinez's team have been forced to stay home from practice or tournaments if they show any symptoms, even if it's clear that the symptoms are caused by something entirely different. 
       At the actual tournaments, according to Martinez, everyone has to walk the exact same direction so there's limited airflow in between attendees. Everyone wears masks until the moment they start wrestling, and even then the spectators are limited. There are also tape squares that are measured out six feet apart that spectators have to stay in during the tournament. 
       Even with all of these precautions in place, the Centers of Disease Control and Prevention (CDC) still warns that traveling out of state for any sport competition puts you at a high risk of contracting the virus. To limit the chances of getting covid while playing sports, the CDC recommends that players bring all their own equipment and wash their hands frequently before and after competing. They also encourage a limited number of spectators and emphasize lower contact practices like at-home or individual drills.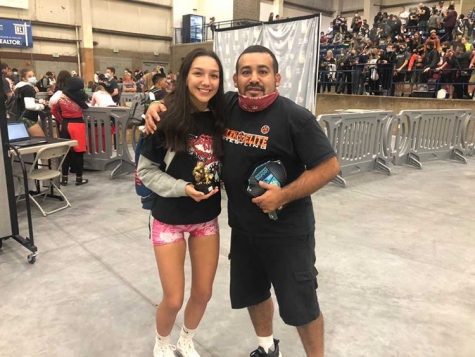 Sophomore Ashton Cavender, a traveling lacrosse player for the team called Madlax Oregon, had been attending these covid-safe practices as long as he's been able to, and he recently had his first tournament in about seven months in Delaware, Maryland. He and his team traveled by plane to their tournament destination, and masks were required every step of the way, including on the actual field. 
     "We either have a helmet or a mask on," Cavender said, "but since the covid rates went up while I was over there they had us wear masks while we played, which was kind of terrible because I couldn't breathe very well". 
     Cavender also stated that spectators at his tournament were limited to family and college recruiters, and had to all remain six feet apart. In addition to the added stress of playing in a mask, Cavender also has some difficulty attending online school while in Maryland. 
     "I brought my computer but it doesn't work on public wifi," Cavender said, "so I couldn't get into school. I had to go on my phone to go to school." 
     This setback thankfully didn't affect Cavender's grades too badly, as he emailed all his teachers and they were very understanding of his situation. 
     Both Cavender and Martinez have worked incredibly hard to play their sport and continue traveling for sports amidst a pandemic, but both say they feel safe traveling and are glad they made the decision to continue their sport during covid.