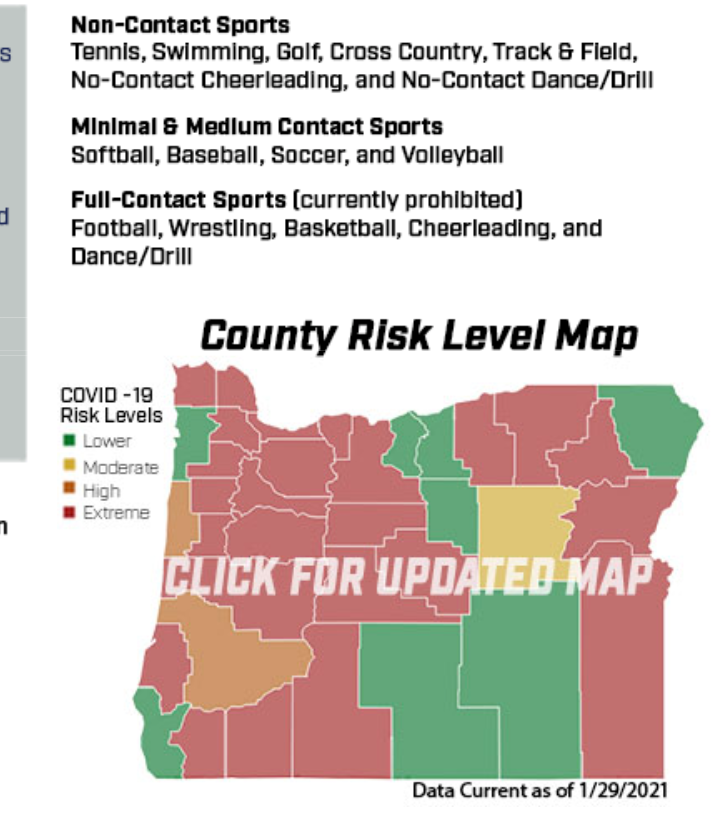 The original plan for the 2020-2021 sports seasons were for traditional winter sports to start in the beginning of January to mark Season 2 of the schedule. The Oregon School Activities Association has again rearranged the season's schedule in its news release on Feb. 8, which pushes back the start of Season 2 into late February and continues to suspend any sport with heavy contact from practicing. 
     Fall sports were given priority to practice first once January ended and the second season hadn't started, so sports such as cross country, volleyball, soccer, and football were revving up to hit the fields again. With this contact suspension, football has been blocked to continue practicing for their season come March first of this year. 
     OSAA executive director Peter Weber said in the news release he's hoping for a change in the contact rules, but they're trying to provide options for schools to continue. The association is trying to find opportunities for teams to keep practicing, but until they have a greenlight from Governor Brown, they're not able to change many of the guidelines. The board's Frequently Asked Questions (FAQ) section has been updated for parents and students to refer to if needed. 
     For Season 3, spring sports such as track and field, golf, tennis, softball, and baseball are planned to start on April 5. Winter sports have been set to be in Season 4 in May, with the hope that COVID-19 cases will decrease by then. Cheerleading, dance, and other activities that are not filed into a specific season are scheduled for August depending on what their schools are allowed to do. All OSAA sports and activities are listed on the 2020-2021 Activities Calendar on their website.
     The board did, however, vote to proceed with cross country and soccer, allowing those sports to start practicing Feb. 22. Volleyball has also been approved, but only for 47 of the lower-risk schools. Only outdoor volleyball is allowed for the other 24 high-risk counties. Linn County is considered one of the high-risk counties, so volleyball will not be able to practice.
     On Feb. 10, Governor Kate Brown announced in a press release that the Oregon Health Authority would be revising guidelines for outdoor and contact sports. School sports must follow rules issued by the OHA, only allowing specific sports to proceed with practice based on county risk level. As always, schools must follow state guidance regarding COVID-19 to avoid increased number of cases. Governor Brown and the OHA will continue to update these new guidelines as they are implemented.