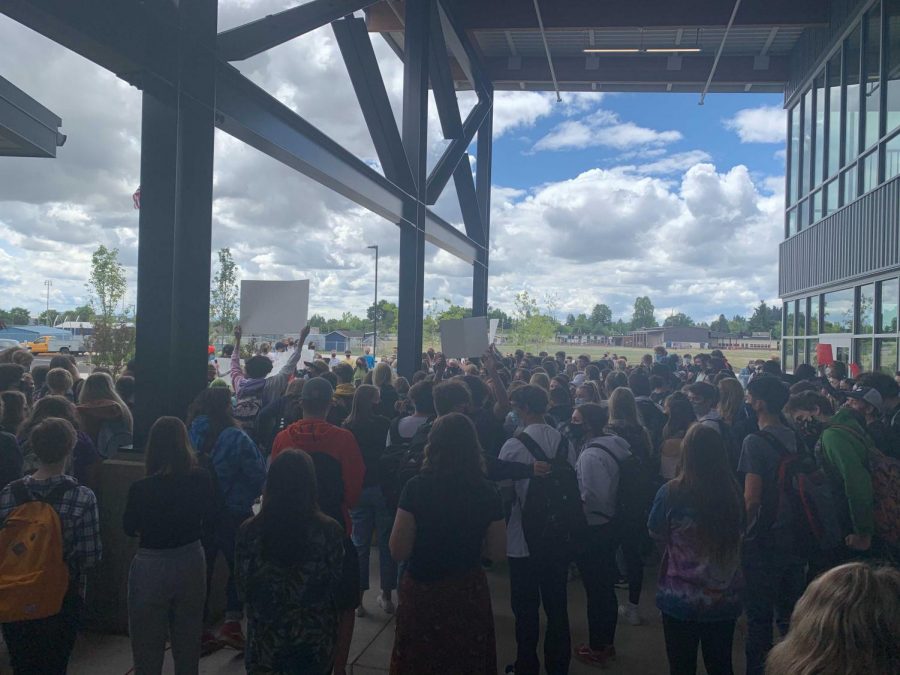 Superintendent responds to student led advocacy in opposition to schedule change
A year from now, a group of students will sit in a meeting with representatives from across the district to discuss the topic of high school schedules, according to Superintendent Melissa Goff. As they live with the recently announced 2021-2022 schedule next year, they'll note its pros and cons from an inside perspective, creating a comprehensive idea of what needs to be adjusted in both a block schedule and consecutive schedule as part of a long-term common schedule development process. 
     The only way that this can occur with the frame of reference that the district is hoping for, Goff suggests, is to implement the interim schedule that has been proposed for next school year, a schedule that includes three days where all classes meet for 50 minutes, and two days where each class meets for a 90-minute block. The main sticking point? It's seven, not eight, periods. 
     West Albany students have been on an eight-period schedule for about 25 years, and many question whether or not switching to a seven-period schedule is the right decision for students to have access to the most opportunities possible. In protest of the change, a petition was created by junior Sachi Wrigley, and it has collected 1,279 signatures as of June 11.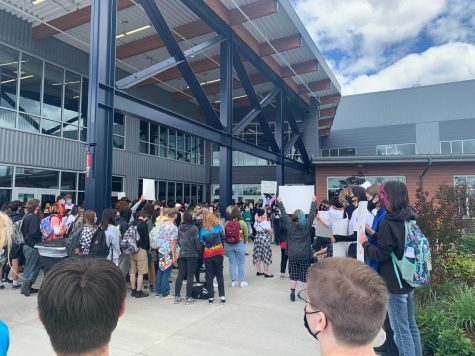 Goff said she has reviewed the petition, but that it will not influence much in the way of changing the schedule's foundation. 
     "I don't anticipate right now that there would be major changes to the schedule itself, but I do hope that some of the outcomes from Sachi's work and other students who have also been participating include thoughts around advocating with school principals regarding which courses they want to make sure don't get cut or don't have fewer sections," Goff said. "Think about the fine-tuning of the schedule itself, and if that schedule is going to be in place, what's important within that schedule and what do you want to retain?"
The process of change in the district
     Major decisions in the district go through a rigorous process of evaluation, beginning with short-term discussions that lead to more permanent change, such as a new schedule. Representatives from all areas of the school's demographics are included in the process, according to Goff, yet during the creation of the proposed schedule, student voices were not represented. 
     "An assumption I made was that principals were asking their own school communities for their thoughts," Goff said, "but that wasn't an official built-in step of the process. It didn't happen, and I don't entirely know why. It clearly needs to be an official step in the process so we all have that clarity around what our discussions are."
     The superintendent described the process of making a long-term, sustainable schedule change as beginning with a team of administrators and representatives discussing inequity and other issues that need to be solved. Then, the final decision that this team makes would be put in place for a trial period to see how it works in the context of each school. This process is what is supposedly playing out for the proposed schedule change.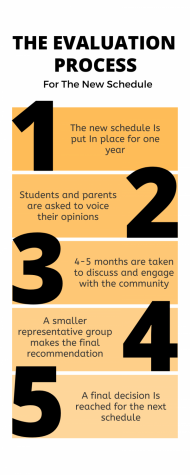 Goff knew that she wanted to get this process going for a new schedule, but she lamented that some of her coworkers were surprised when she kept her word even as the pandemic grew more prevalent. 
      "When I said we were going to do it for next year, I meant that we were going to do it for next year," Goff said. "That didn't change for me. I think maybe some people were surprised in April when I said, 'Ok, let's go.' I think people maybe thought it would be one of those years where we just pushed it for another year."
     While others are using Covid as a reason to go back to how things were before, Goff believes the pandemic is the perfect opportunity to change things up. Her logic is that both the freshmen and sophomores have never had a consistent high school schedule, meaning they don't have any schedule that feels normal to them, so there's no such thing as going back to usual. As for juniors and seniors, if the district were to wait a year, it could cause an even larger disruption in the consistency of student lives since their schedule would be changed during the last years of their high school career, after having the same schedule for two or three years instead of just one.  
     However, many students still have high anxiety about the new schedule and its many ways of deviating from the schedule they previously had. 
     "After almost a year and a half of inconsistency, constant schedule changes, and a tremendous toll on students' mental health, why this year?" read one of the comments on Wrigley's petition. "Why are we being used as test subjects? This not only limits student's elective choices when we should be broadening our options, but the schedule is so overly complicated for no reason. It will also make elective classes like woods and art extremely hard to teach because those types of classes take time. Students were not asked for input whatsoever, and we are the ones this new schedule affects most."
     As of June 13, the petition has 70 comments detailing the problems that each signer has with the schedule. 
     Goff stated that her level of involvement in the initial decision-making process was minimal, as the accelerated timeline did not allow her to attend every meeting. Instead, she relied on other district leaders to relay information on progress in developing a common schedule for next year.
      "In the longer process, I would be physically present for a lot of those conversations," Goff said. "My calendar will allow me to be more present because of the longer, drawn-out timeline. In the accelerated process, I just can't be present in those meetings due to time."
The superintendent's job during change
     Goff's responsibilities as superintendent have shifted radically from her usual day-to-day schedule. She says the majority of her time is spent replying to emails and having discussions with students and parents advocating for change. 
     "Students talking to me or voicing their opinions toward me is part of my job," Goff said, "regardless of what the decision is that you're frustrated with."
     However, Goff feels as though she is not the appropriate person to answer those questions. 
     "I'm a superintendent because I absolutely love thinking about how we can do our very best for students," Goff said, "how we can think creatively and work together to try new things and make things work better for all students. So, having the center of attention be me rather than the kids is my biggest concern about what's happening right now."
Student advocacy against the schedule
    Not long after it became clear Wrigley's petition would be ineffective in bringing about change, students of West Albany arranged a walkout on April 8 during which over 200 students gathered outside of the school, gave speeches, and held protest signs. 
     Justifications such as the clarifying email sent out by the district after the initial schedule was announced did little in convincing students that the schedule was the best option for them. The email detailed exactly why the district chose the new schedule, expressing the idea that both schools being on the same schedule would foster opportunities for students at both facilities and bring a more consistent and flexible routine for holidays and other breaks. In addition to these reasons, the email explained that the schedule structure would allow for students with shorter attention spans to retain as much information as possible. This email did not explain why a period would be cut from the West Albany schedule. 
           While the efforts of students may not change the schedule itself, Goff explained that adjustments can be made within the new format to fit the wants and needs of students. 
     "I want people to understand that their voice is never a wasted voice," Goff said, "and I want to make sure that people feel comfortable sharing their opinions. Even though the schedule is unlikely to change, there are adjustments we'll be able to make within the schedule based on student voices and feedback."
     Regardless of what electives and classes go or stay, however, students are still highly concerned about the fact that they will be losing a period altogether. 
     "Frankly, I believe that the schedule is wrong," said junior class president Andrew Craig. "But the bigger picture, the fact that the district is making real big decisions that affect students and teachers without input from students and teachers is what I'm concerned about."
     Students including Craig and Wrigley felt strongly enough to voice their opinions in a speech to the crowd of students that had walked out of school during eighth period in protest. 
     "This is not West Albany just complaining for no reason," Wrigley spoke into a mic in front of the walkout. "Yes, this school is about tradition, and yes we've had this schedule for 20 years, but that is not what this is about. This is about student voices not being included in the process to decide something that directly affects us."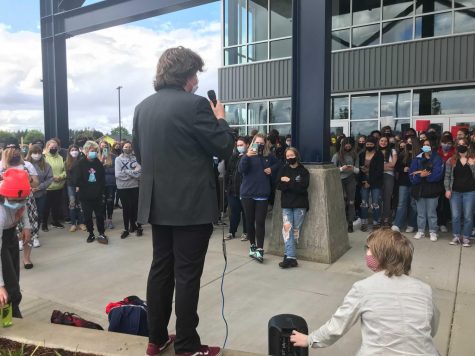 Walkout students cheered as Wrigley invited junior Izzy Harwood to the front of the crowd to speak. Harwood spoke on her personal experiences with neurodivergence and how an inconsistent schedule would disrupt her routine and make way for panic attacks and dissociation. 
     "I was asked to speak on behalf of neurodivergent students," Harwood said to the students, "especially those with ADHD and ADD as I was diagnosed with ADD myself. We range from kids with ADD to kids with autism here at West Albany. We all, especially kids with autism, have triggers that can result in shutdowns, breakdowns, and other struggles. Our staff has worked tirelessly to offer them as much support and stability as possible, but this change will only push them back down the hill they worked to adjust for us."
     Students listened intently as their peers continued their speeches, detailing their own reasons for walking out. Even those in the crowd had their specific reasons for protesting. 
     "I chose to walk out for the neurodivergent students who need consistency and won't get it," sophomore Kaylie-Jo Robinson said, "and for the music students who need a full schedule. I hope that the district can come to the conclusion that the students want an active role in their education and that we walked out to try to achieve it."
     As advocacy continues, Goff hopes that the energy will shift from changing the schedule as a whole to making sure no classes that students want to stay are cut. Goff has confidence that no matter what schedule students end up on, they will succeed in making it feel like home. 
     "If you asked professionals across Albany what their high school schedule was, you would hear all different schedules from people who are great at their jobs," Goff said. "You just wouldn't hear one schedule is the perfect schedule or the best schedule. You're going to do great."
     Goff explains that she sees the anxiety that students are expressing and is concerned for the mental health of students more than anything else. She wants kids to be able to see their teachers three days in a row consistently, be able to have access to West Albany and South Albany facilities without fighting for it, and also be able to advocate for future changes based on experience with the new schedule. 
      "My whole job, the whole reason I am in this work, is to help you be your most successful," Goff said. "I know most of you think the schedule change can't allow you to do that, but I can say I wouldn't make a schedule change that I thought would stand in the way of you being successful. Ever."