The Times of the Alumni
What West was like for the Teachers that went here compared to now.
Mr. Pouliot 
Math teacher Cole Pouliot walked the same halls as a student, and now as a teacher.  Pouliot was not only a good student, but also an avid player of sports. He claims to have played basketball freshman year, wrestling sophomore year and baseball and football all throughout his high school career 
     "I played lots of sports and I got really good grades," Pouliot said, "that took up most of my time. So that was the fun I had in high school." 
     Pouliot graduated in 2002, overall liking what West has to offer. He is just as satisfied now as he was back then. He is greatly appreciative of what this school had to offer both now and back then. 
Mrs. McArthur
     Math teacher Marcie McArthur was part of the graduating class of 1994. 
          Much like now, West had lots of the same sports and events almost thirty years ago, but according to McArthur, they weren't always the best. 
     "We were not very good at football," McArthur said."My freshman year we were really good at basketball. And we went to the state tournament up in Portland." McArthur herself was part of the tennis and the cheer-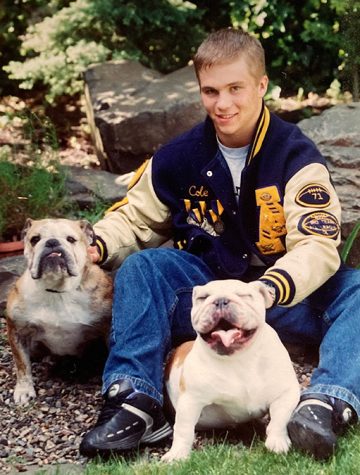 leading team. 
     "We were pretty good at cheer-leading [and] not too bad at tennis," McArthur said.
     But a lot has also changed since then.
     "We didn't have Old Skool, but I guess that would have been old school at the time. We did have Toga, which was crazy."
     According to McArthur, Toga was hosted by the Latin club. It was a dance where everyone would make their own togas then come and do various fun activities. 
Mr. Wadlow
Teacher and coach Brian Wadlow graduated in 2000. Since his own graduation, the school has changed drastically; one example being the school buildings. Wadlow is still getting used to how much more distanced the building feels now with two different structures labeled old and new.
     "I think that we are still trying to figure out logistically the best way to make the building feel more cohesive. You know, to make both buildings feel more connected as one."
     One improvement he approves of is the significant loosening in dress code regulations. Wadlow claims he's never had any issues with how or what to wear, both as a student and teacher at West. "No thought or energy as to what we can or can't wear," Wadlow said.
Mrs Boase 
Freshman counselor Kate Boase rates her overall experience as a past student of West a nine out of 10, the same rating she gives her job today. She admires the new expansive area students are able to traverse in, but also notices a clear imbalance in added staff hired to monitor and supervise students. However, as great of a high school experience she had, she can't help but recognize how much more accepting and diverse of an environment WAHS is now. 
     ¨In some ways, I think students are more accepting now than they were when I was in high school," Boase said. "For example, the LGBTQ community and newfound diversity 
Mr Hall
The greatest change teacher and counselor Kyle Hall noticed since he went to West is the advancement in technology, such as smartphones, which are now a staple in each student's pocket. Very different to the Nokia Hall sported as a junior in high school.
     "I had this Nokia phone. It was those little, tiny tiny brick phones, and the only thing you can do on that is play games like Snake. We didn't have cell phones like today and couldn't even text each other from under our desks."
     Hall recognizes the academic use of high speed, easily accessible internet. He recalls having to visit his local public library in order to research for his projects in encyclopedias. He thinks that cellphones, despite causing shorter attention spans in students, are a net positive. 
 Mr Halvorsen
Football coach Drew Halvorsen has always had a love for student involvement in schools. Halvorson himself was a team leader during his time as a student at West. He appreciates the opportunity that comes with a more powerful and expansive school as a whole. 
     "For extracurricular, we didn't have the big auditorium. And we didn't have a class tailored towards an art class. We didn't necessarily have the tech stuff as well. So I would say there's more opportunities now for students than there was when I went to West."
     With more opportunity for students to get involved, Halvoronson sees a growth in school spirit overall. He only dreamed of having this many opportunities during his time at West.