Just a Bill
How will the class of 2023 change school legislature?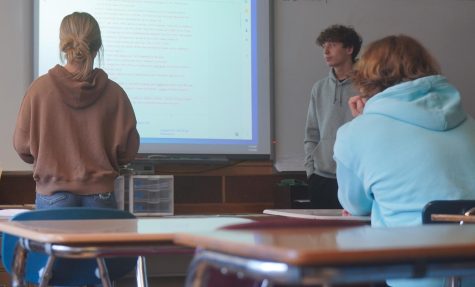 Seniors in the American Government class are currently writing a new rule that will be added to the school. The project, designed by American Government teacher Eric Ihde, is meant to teach students the process of how actual bills and laws are passed in the U.S.
     According to Ihde, the inspiration behind this whole operation stems from "a long standing program I was in called Youth and Government, which is a mock legislature that happens at the state level for high school students. We wrote laws for the state of Oregon and it was this extra curricular program that I really enjoyed. When I started teaching government, I thought it would be a cool hands on way to learn the legislative process is to actually write and pass laws," 
     Ihdes' mock legislature requires students to draft a bill involving a change they wish to see in this school. One bill writer, senior Ihtzel Chacon, wrote Bill #0451, an act relating to lunch privileges for underclassmen. Section 1 states, "Underclassmen students will be allowed to participate in off-campus lunch" With the exclusion of students who have less than a 3.0 GPA, according to Section 3 of this bill. Writers must follow a strict format mocking how an official bill in real life would be written. 
     Then, American Government classes are split up into committees of four or five people that review, edit, and debate which bills should move forward to the Senate. A chairperson is chosen to lead the activity between the five members, wWho all must follow the guidelines of how an actual legislature would be presented. This means the students even have  to ask "Will the speaker yield" before talking. As well as a step by step procedure of: reading a bill in its entirety, a minute of silence for members of each committee to process it, a period of questions and answers between the creator of the bill and members, positive and negative feedback, a closing statement by the writer, then a final vote on the bills legibility to pass. 
     Senior Cecilia Greene wrote Bill #1600, relating to student parking, Section 1 stating, "school parking will be monitored by two staff members a day." And under Section 5, "students who fail to follow the rules will receive 'tickets' as a reminder to park in the right area. Two tickets will be considered warnings and the third will result in lunch detention." Bills vary in content and not all bills pass to the next part of the project depending on the content written. 
    The bill is then further reviewed in a house debate by the whole class, where a similarly strict process of language speakers must follow is put into place as well as a chairperson leading the meeting. 
     Then, bills are passed into Susie Orsborn's hands or the "president," where it will be decided whether a bill will or will not be implemented at West Albany. 
     Bills that passed Orsborn's eyes that stuck out to Ihde in the past include the addition of water bottle filling stations located in the school and the well known cell phone policy restricting overnight stayings of students cell phones. The bills for this school year are still being processed by Orsborn and have a ways to go until the changes we as students want are made.