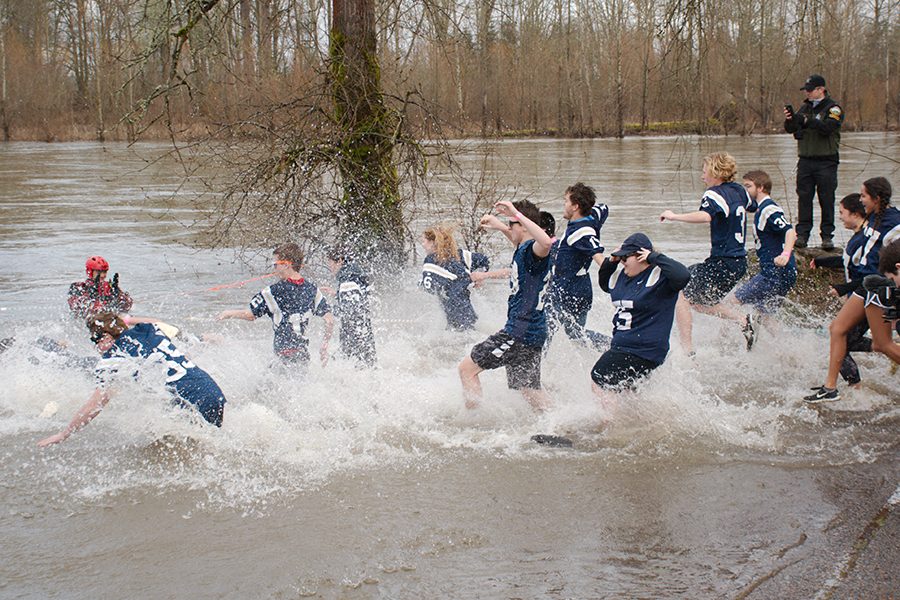 The Willamette River isn't exactly notorious for its pleasantly warm waters. In February, the water temperature can drop to even the mid-30's. One can imagine the far-from-ideal swimming conditions at 11 a.m. on a winter morning. So what could possibly motivate a group of teenagers to charge without hesitation into such frigid water?
"It's really fun," senior Stephanie Farnes says. "The water doesn't actually feel cold once you jump in."
The Polar Plunge is an annual statewide fundraiser for Special Olympics Oregon, an organization which works to "provide year-round sports training and athletic competition in a variety of Olympic-type sports for children and adults with intellectual disabilities." The non-profit serves more than 14,000 participants every year, and the Plunge raised over $450,000 in 2017 alone.
If any West Albany students felt brave enough to take the Plunge on Feb. 17, they certainly wouldn't be alone. The students of the WAHS Leadership program have participated in the fundraiser for several years, and have even dedicated an entire planning committee to the effort. Farnes, a former chairperson for the committee, sees it as a positive opportunity for the class to have fun together:
"I like it because it's a good bonding experience for the Leadership class…[whilst] bringing students in from outside Leadership who want to participate in something fun."
Of course, the Leadership class highly encourages all West Albany students to join their Plunging team. The team's captain, and perhaps the most prolific Plunger in the school's history, retired teacher Max White maintains a goal of 100 participants from West Albany, both students and faculty.
"The last couple years we've had close to 50 students take part," White said, "and I'm hoping we get at least that many."
White, a 27-year military veteran, started participating at the Portland location when he was a member of the 142nd Fighter Wing and has since been Plunging for an estimated 16 years. He believes the event is not only immensely enjoyable, but locally impactful since West Albany has its own Unified Sports program through Special Olympics Oregon. This is why he strongly urges any and all students to get involved.
"Every student who's ever taken part, and every staff member who's ever taken part, they've thought it was fantastic," White said. "One of the best experiences of their life."
For anybody interested in joining West Albany's squad, junior Sienna Higinbotham, a co-chairperson of this year's planning committee, says the deadline for registration forms and waivers is Feb. 13. The required registration fee is $50, but reportedly there are ways to cover that cost if it presents a challenge for any students.
"We do fundraising to raise money so that the funds are covered, which brings in other students who want to participate," Farnes said.
When all is said and done, the participants insist it's a fantastic experience in support of an important and charitable cause. Thus making it easy to, in the words of sophomore Justin Elliott, "Get hyped for Polar Plunge."
But isn't it a bit cold? White doesn't think so:
"You know, I'm not saying it's warm water, but it's no big deal."