Meet Maryn Chambers: the student with her own business based around thrifting
Junior Maryn Chambers runs an Instagram account where she thrifts, sells, and ships second-hand clothing for others. Here's her perspective on thrifting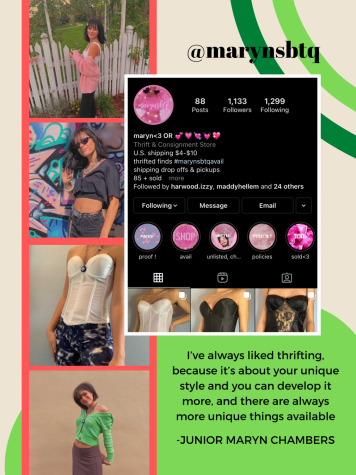 The thrifting community among West students has swelled during quarantine, and with the rise of thrifting social media influencers, a trend that can make you feel good about what you're doing while also staying in the fashion loop has sparked curiosity. Some students have even taken an interest in building a business around thrifting, posting their finds on Instagram to sell and ship to other second-hand buyers. Junior Maryn Chambers has grown her thrifting Instagram account, @marynsbtq, over the past few months, gaining a following of over 1,100 and making what she estimates to be around 150 sales nationwide since she started her account. 
     "There's a whole thrifting community, and for some people, they gain immediately and their accounts just go super fast and take off," Chambers said, "and others work on it a year before it really starts taking off. It was a goal of mine to have 1,000 followers, but I wasn't necessarily expecting it, and I'm really grateful for it." 
Chambers has been thrifting for years, but her interest really started to pick up after she got her license and could take herself. The influx in visits, that she often took her boyfriend along to, led to him suggesting she start her account.
"I was taking my boyfriend thrifting all the time, and he's not really a fan of thrifting, but he'd just come with me," Chambers said, "and after a while, I started going all the time and getting so much, and he said, "well couldn't you start an account?" And I said, "yeah, I could start an account." I also had a friend who had already started one before me so I got a bunch of help from her and tips on how she grew her account and where she would go."
After the decision to start a business account centered around second-hand shopping for others, Chambers' next task was to choose her aesthetic, and the overall look of her account.
     "It was difficult to choose the aesthetic, you have to make your page aesthetically pleasing so people will want to click on your page and buy stuff," Chambers said, "so trying to figure out how I wanted to brand myself and what theme I wanted was difficult, but I didn't have very high expectations when I started it, I just thought it might be fun, so I wasn't super stressed about it."
According to Chambers, one of the main roadblocks she faced was shipping. Since she's started her account, she's now shipped to states as far as Pennsylvania, but she didn't always know how to package and ship things to be flown across the country.
     "there was a whole learning curve," Chambers said, "and it definitely was an investment because you have to buy the scale and supplies. It was a rough start, I made a few mistakes, and it worked out in the end, but I definitely had to rethink a lot of things."
     As her account began to gain popularity, Chambers learned a lot of lessons along the way. Shipping issues, pricing mishaps, and aesthetic dilemmas all taught her to be an avid, well-adjusted thrifter that knows her way around a thrift shop. 
     "It sounds weird, but look in the bras and lingerie section," Chambers suggests, "that's where they have all the slip dresses and corsets and things like that. No one looks in there because you don't really want someone's used underwear, but at the same time, there can be a lot of cute stuff. Just look everywhere, don't assume you won't find something in the men's t-shirts even if you don't typically wear that stuff." 
       Chambers also suggests creating a Pinterest board or two of your favorite aesthetics so you know what you're looking for, watching DIY videos on YouTube to see how you can spice up old pieces, and making sure you always go thrifting with an open mind to the possibilities of pieces you may find.