Cheer Challenges: How the cheer team is adapting to the changing Oregon protocols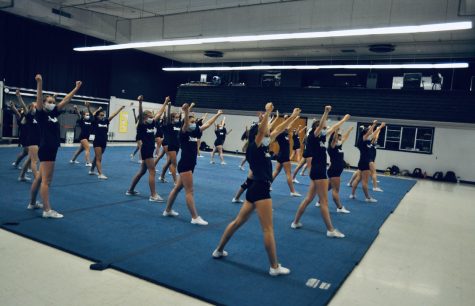 Cheer has taken each obstacle as a challenge, adapting through the pandemic and the constant changes of circumstances. Their practices have looked much different this year, but their spirit is still high. 
     "Every single practice that we have, we have been very, very spirited lately," junior Liv Manske said. "[It's] more than usual just to make sure that this is our best run and that this is the best time that we have together."
     One of the ways that the cheer team keeps their spark is through calls over Google Meets. About once a week, the cheerleaders join a virtual call to practice their skills and help keep the feeling of a team. They also used this as an alternative when practices were halted due to a Covid-19 case in October, as well as over winter break.
    The coaches on the team provide online challenges where each cheerleader records themself doing a dance or band cheer. Cheer coach Jordan Carlson Ne-Smith said that they would then spread words of encouragement to keep their morale high. 
     With the social distancing guidelines, the cheer team has been unable to stunt. Stunting is where a group of up to five cheerleaders supporting each other as a flyer is thrown into the air, as well as other tricks. This has limited their practices to tumbling and sideline cheers, since they have to stay six feet apart from each other. 
     According to the Oregon School Activities Association, stunting in cheer would change the sport from non-contact to contact. As a non-contact sport, they were able to start practicing in July as long as it was outdoors, everyone was socially distanced, and they wore masks. But on March 1, the OSAA allowed the cheer teams to start stunting for the first time since before quarantine. 
     "Personally, my favorite thing of cheer is stunting just because it's the hardest thing that you can do," Manske said. "But it's been almost a full year since any of us have stunted, and that's going to be a little bit tricky to try to get back into."
     Even though there are struggles, there are some unexpected benefits to practicing during a pandemic. Since the pandemic hit, the team has grown largely in size, from 23 members before to 32. 
     This has also increased the amount of leadership needed to lead a team. In the past, there have been about two cheer captains. But due to the large number of new teammates joining, the amount of cheer captains has grown to five. Junior Kate Brudvig, a first year cheer captain, said, "I don't think that the increase of members has affected my leadership skills. It's only my first year being a team captain." 
    "Adding that human interaction and contact, I feel like it's almost made the team a little bit closer-knit than it has been in previous seasons," Carlson said. "Because they are depending on each other. They're kind of going through these unprecedented times with each other."