Un-Masked
Senior Ashley Chido works in the child development program's on-site preschool, teaching children songs, reading them stories, and preparing them lunch. She and her classmates in the program are the coolest people in their eyes. But with all of them in their masks each day, she wonders: will they remember her?   
     "The kids are really not going to recognize who I am," Chido said. "As they grow up, they'll just recognize me as a person with a mask." 
     Chido and others are frustrated by the current state mask mandate for a variety of reasons like this one, though she and others follow the rules to stay in school. 
     West Albany High School requires students to wear a mask, covering both the nose and mouth following Governor Kate Brown's reinstated mask guidance requirement for Oregon's K-12 schools in August 2021. The goal? To keep students safe and in the classroom. School nurse Katie Roskelley went on to say that the guidance is based on information directly from the CDC and other scientific agencies.
      For science teacher Shana Hains, masks are a very personal matter. "My mom is 80 and I really worry," Hains said. "I have to make the decision of not seeing her or being extremely careful […] If they decided to not have kids wear masks, then I would choose to not see my mom."
     Furthermore, according to assistant principal Rich Engel, wearing a mask isn't debatable.  
     "I respect your own opinion and your own belief system, but the state of Oregon says that inside school we have to wear masks at all times," Engel said, "and as an administrator here, I have to enforce that." 
     Engel explained that the unwillingness to follow guidelines or regularly wear a mask properly can lead to consequences for frequent offenders.
     "If it continues and they're unwilling to follow the guideline, then it might be that they'd have to do RIM, which is online schooling," Engel said. "They're saying that their own health and safety and the health and safety of everybody else in school is not important."
    Among students, opinions about the effects of a mask vary. Online senior Chrystopher Houser, whose mom has underlying conditions, said that his decision to go online wasn't based on reasons related to COVID-19, but did emphasize the importance of wearing a mask. 
     "Wearing your mask isn't selfish; it is there to protect other people from what you could have," said Houser. "The fact that there are many students in school currently not wearing the mask because of one reason or another, I think that it's just uncalled for."  
     For Chido, though, there's not enough evidence that masks have an impact. "If it was more proven to be effective, if our numbers were changing by wearing [a mask], I would really be more apt to wearing them," Chido said. "But I really don't know if they're working, because our n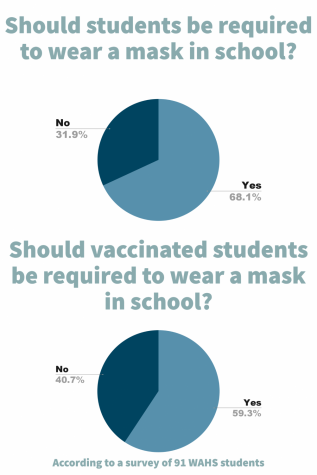 umbers don't really change very much."
     However, according to Roskelley, masks are very impactful. "COVID-19 is most commonly spread through close contact,'' Roskelley said. "By wearing a barrier [a mask], you create a significant increase in safety for you and safety for others in the spread of the disease."  
     But this wasn't all Roskelley had to say about the efforts students can be doing to stop the spread. She says there are "several layers" to preventing the spread of the disease, including proper hand washing, using hand sanitizer when hand washing is not possible, and staying physically distant from others.
     "There's lots of things that you can do to help stop the spread," Roskelley said. "Wearing a mask is one important piece of that puzzle."
     As a frequent enforcer of the rules, though, Engel is looking toward the future. "I can't wait for the day when we don't have to worry about it."