Leader of the PACK
CROSS COUNTRY COACH KRISTEN GROSSERHODE TAKES OVER TEAM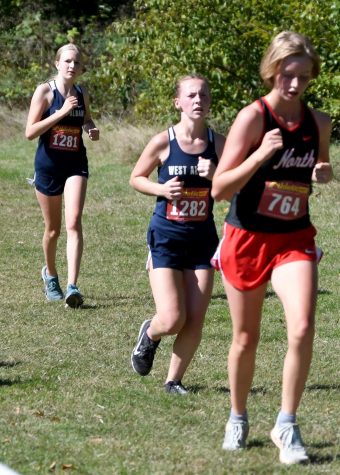 WW: What was the struggle of going from not coaching to being head coach in the span of two years? 
Grosserhode: The biggest challenge is time. I went from having lots of time to make lesson plans and spend time with family and friends, to having to go from my class room and running to get to the stadium to change and starting practice and having no time to meet with students or do lesson plans.
WW: Why did you choose to be a cross country coach?
Grosserhode: I love running. I run every day. It's my favorite thing to do for exercise.
WW: Most successful moment this season?
Grosserhode: On Oct 2, we had the Harrier Classic meet. It was hosted by South Albany and it's at Bryant Park. There are 50 schools  there, and it's very energetic. It's almost completely flat so its just a fast and race. And on that day this year on almost all of my runners beat their personal record by two minutes, which is incredible. Everyone was just so excited and proud and it really helped them see their full potential.
WW: Most upsetting moment this season?
Grosserhode: I don't know if this has to do with coaching, but a couple weeks ago the most upsetting moment was when I was told we had no bus, so we couldn't go to the competition. And eventually it worked out and we have two shuttle buses shuttling the runners in groups back and forth. It took forever and then got me thinking constantly about what if we don't have a bus for a future meet. Or how am I supposed to rely on this now that we have been let down.
WW:  Did you always want to be a teacher? 
Grosserhode: I did not know that I wanted to be a teacher, now that I look back its very obvious that I should have known that I should have been a teacher. I went to school at Oregon State to be a veterinarian so I got a bachelor's degree in animal science and a minor in spanish. But the more that I studied animal science I realized it wasn't for me. And I knew that would not be something I would want to do for the rest of my life. Once I graduated I got a job at an animal hospital for six years and I taught new employees for a while. I realized how much I enjoyed teaching so I figured out what I needed to do to become a teacher. I took some prerequisites in history, and I took some classes that were required by Western University. Then I studied for the national test that you need to pass to be a subject teacher. I took the test, passed it and got my degree from western university and got a job here at West Albany High School.
WW: How is covid affecting you? 
Grosserhode: I love to travel so that's been a bit difficult to navigate. Maybe not so much here but I like to travel abroad so covid has been limiting my ability to do that. Not knowing what the rules are like… If I'm allowed to go? Do I need a vaccination to go? Do I need a test to go? If so, what kind of tests? And that is just a lot of boxes to check if I want to travel, which is my favorite thing to do.
WW: What other subjects do you teach? How long have you been teaching? 
I teach spanish one and freshman world history. I have been teaching at West Albany High School for four years.