Practice Makes Perfect : Local Company Lazarus 3D Making Strides in the Medical Field
How Lazarus 3D is paving the way in modern medicine .
According to the National Institutes of Health, 31.5 percent of people come out of surgery with a complication. That means if you look to your left and look right, and you and the people next to you went into surgery, most likely one of you would come out with a complication. But one company here in Albany wants to do something about it.
     A complication is a medical problem that occurs during or after the procedure. It can mean someone might have to receive extra surgery as a result, days in the hospital, and repeated doctor visits.  Local company Lazarus 3D's goal is to help surgeons perfect surgery without having all of their learning experiences happen in the operating room. 
     The type of model Lazarus 3D makes is a medical device called a diagnostic radiological device. Smriti and Jacques Zaneveld are the founders of Lazarus 3d, and both studied at Baylor College of Medicine in Texas while getting their Ph.D.s in genetics. 
     "That's where we really identified the problem to begin with because we really wanted to know why people are having these complications," Smriti said. So Smriti and Jacques decided to develop a technology to help prevent complications by giving surgeons more experience with risky or specific surgeries. 
     "Our real goal is to make one of each of a million different individual specific products that are built to care for just that one patient in a very personal way," Jacques said.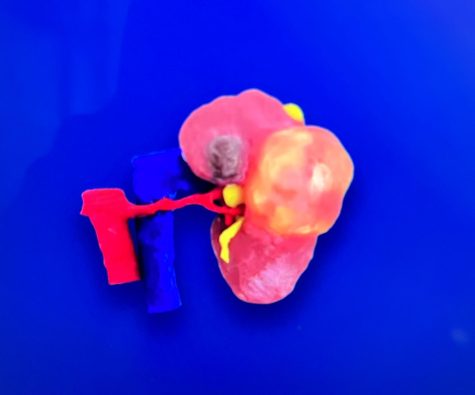 Lazarus specifically makes products for each patient through computerized tomography scans that allows them to make a replica organ out of a synthetic soft tissue material that mimics human tissue. Through this surgeons are able to rehearse the surgery without putting the patient at risk, and if all goes well, the surgeon can decide to perform the surgery on the patient themselves.  
     "They're going to look at the surrounding structures and if they were all intact and everything went as intended, then they are going to be ready to proceed,"  Smriti said. 
     According to Smriti, Lazarus is the only company with FDA cleared technology to rehearse on a soft tissue organ ahead of time. They invented this technology last year. According to Jacques, the process of getting something FDA cleared is time consuming and takes years on average, requiring 21 different steps for clearance.  
     "Our competitors can make models of hard plastic, but we're really the pioneers for this surgical rehearsal concept," Smriti said. 
     However, they are currently only FDA-cleared to print genitourinary conditions for patients and hospitals.  "That is the limitation of where we are at today," Smriti said. "However, this is still a pretty significant market. Seventy thousand people get diagnosed with kidney cancer and are surgically treated for it each year."       
     Despite this, surgeons using the models produced by Lazarus have already seen a dramatic increase in success. "In every single case, so far, there has been an increase in surgical care with those patients," said Jacques. On average, orthopedic surgeries that use 3D models are said to reduce operation time by 19.5 percent for kidney cancer and half a day less in the hospital recovering.  Lazarus 3D is paving the way in advancing healthcare and wants to become more accessible and have a greater selection of approved models. They are currently in the process of getting more models cleared.  "What about people who have very rare conditions in their brain, or in their heart, or in their liver, or in their toes? We want to be able to build very good models that are replicas of those patients for those other complex conditions," Smriti said. 
     "Our goal is for every surgery in the United States where a doctor would benefit from this technology for it to be available," Jacques said.
A previous version of this story had a misspelled name and unofficial term used edits have been made and should reflect the correction version