Winter sport teams look forward to season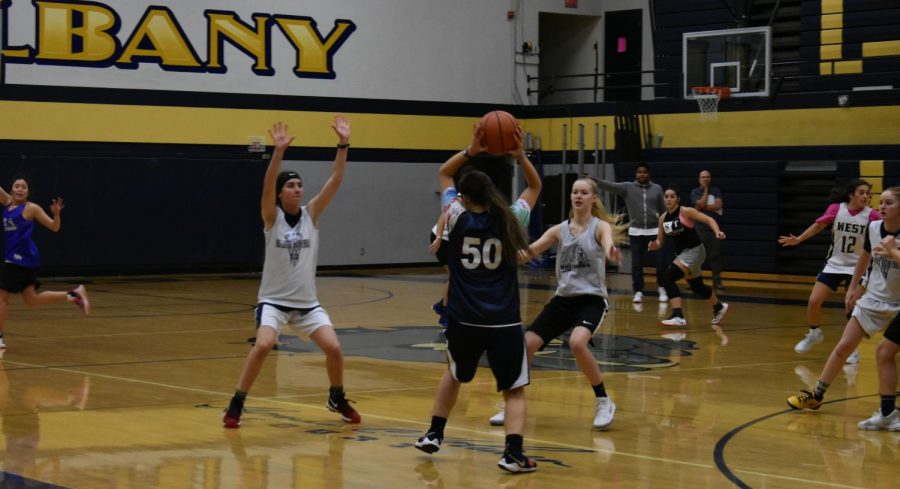 WHILE FALL SPORTS are coming to a close, winter sports are just winding up and getting ready to follow up from the previous achievements of fall sports. With our football and girls soccer teams making the play-offs, our girls and boys water polo teams earning 4th and 5th place in state, respectively, and our rugby team winning the State Championship for the second year in a row, the up and coming winter teams plan to continue with West Albany's tradition of victory.
"Excited," says boys basketball head coach Derek Duman, in reference to the energy he's seen at tryouts and open gyms.
With practice already underway, the winter sports season has kicked off on a strong note. One game has already passed and there is a pretty good idea of what the coaches and players are expecting from each other and themselves.
"We return a lot of talent and a lot of our main group of kids from last year," Duman said, "so I think it's going to be a better year for us overall, and a lot of kids have had varsity experience."
The girls basketball team's coaches are equally excited about the upcoming season. "I'm excited; I think we'll do well," girls basketball head coach Shawn Stinson said. "I think the league is pretty much wide open because a majority of the league has lost quite a bit of talent this last year."
From basketball to swimming, the two sports couldn't be more different, but the energy level is still at an all time high. "Personally, I'm really nervous about it, there's a lot of really good girls," senior Tess Irwin said. "I think that overall as a team we're going to do really good this year."
The consistent theme from all of our winter sports is that kids and coaches are really enthusiastic about what is already starting to be a great season. West Albany has many top athletes, and a passionate coaching staff makes for a great combination of success. All sports are unique in their own way, but there's one common goal across the board: to accomplish great things this season.