Protection of the Public
New city council legislation votes to remove recurring low level crime in downtown Albany by restricting the access of homeless
In the city of Albany, there are many people without homes residing on downtown benches and taking advantage of the numerous organizations within their reach. However, as Albany's city council voted in March to enact new municipal codes 7.84.210-250, the people of our benches could be facing new threats. Within these pages of bureaucratic wording remains an outstanding three point code: if you get caught with any range of minor misdemeanors to offenses three times, you are kicked out of downtown Albany, otherwise known as the "enhanced law enforcement area."
The enhanced law enforcement zone, also known as the "exclusionary zone," is an increased police activity area ranging as far west as Elm Street, connecting through Bryant Park, following the river towards its east most point, Pine Street, and back to its southernmost point, the train station.
If someone were to get picked up by police for any suspected misdemeanor, they would then be cited and given a court date to appear and prove their innocence. If proven guilty, they would then be put on the enhanced law enforcement zone's list: three more offenses in a 6 month time span, and they are out.
The only city councilor to oppose the measure was Dick Olson, representing downtown Albany as well as North       Albany, who views the code as "a little harsh" stating, "People are homeless for a variety of reasons." He elaborated,    explaining some of it was people who got caught up in the housing market crisis 10 years ago, and afterwards it was  extremely difficult to better their situation.
He then describes 'harsh', using the term ''banished' from the downtown area" when talking of those who have been excluded from downtown.
"People [after the housing market crash] ended up being homeless. Well, now those people are willing and anxious to get a home, and accept help from organizations like Helping Hands, Goodwill, Fish House, … and Jackson Street House."
Contrary to Councilman Olson, Mike Sykes, councilman for the same ward as Dick, voted with the rest of council for the exclusionary zone. "If you don't do something about the homeless, you will have a problem," stated Sykes.
However, as Councilman Sykes brought a recent court ruling to attention, the legality of exclusionary zones just like Albany's has been questioned. "A new court ruling out of the Ninth Circuit Court of Appeals v. Boise on homelessness, and under the 14th amendment they're saying that you can't create a separate class of citizens, …" Addressing that "[with the homeless] the city can't do anything about it, it's going to take the state to do something about it, because of the rules and laws of the state of Oregon."
Although disagreeing on the ideal municipal code, both councilmen agreed that drugs, housing prices, and lack of mental health are the prime cause of homelessness in Albany. As Mike Sykes stated, "If they're not solved, you are not going to be able to do anything about the homeless."
Councilman Sykes explained that "there is really nothing you can do, except move them around," however also explained that "We tried to do something about it [homeless problem]," which was the intent of the exclusionary zone, to solve a seemingly unsolvable issue.
Later, he mentioned that the way the rules and regulations are, a lot of people don't want to work, and they don't want to get a job, compounding the issue. He implied living without amenities is a suitable arrangement for someone.
Sykes also pressed that the code simply makes people comply with basic rules and laws. "The exclusionary zone was put to get people to obey the law, basically, and not be constantly sleeping in alleyways, doorways, defecating on the streets, doing all these kinds of things."
About the Writer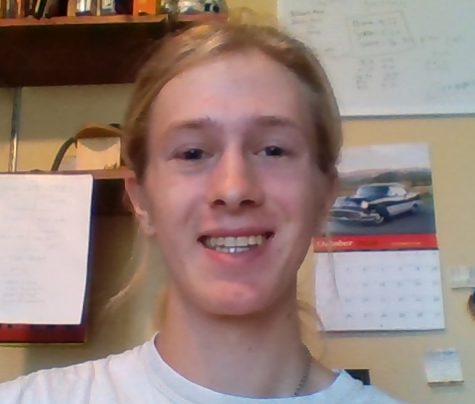 Dezmond Remington, Co-Editor in Chief
I am the Co-Editor in Chief of the Whirlwind, and this is my third year on staff. I hope to do this for a living at some point.