Romancier Retires
Long Time WAHS Water Polo Coach and Manager of the Albany Community Pool Retires
Former Albany aquatics recreation programs manager and water polo coach of the West Albany High School Girls Water Polo team, Rob Romancier, has officially retired as of the 28th of February.
     Romancier, who has managed the city pool and coached high school water polo since 1993, has decided to retire to spend time with his family while he still can.
     Employee and WAHS student Trenton Worden summarized Romancier's management style as above and beyond. "Rob was a really good manager," said Worden. "He always helped out when we needed it and he was nice when we came to him with questions or concerns."
     Long time friend and fellow water polo coach, Rob Nelke, had this to say about the now-retired Romancier, "I'm happy for him cause he's worked hard for many years and he's earned this, but I'm sad because I'll miss working with my best friend."
     "I loved it, absolutely loved it," Romancier said about his time at the ACP. "It took a while to find a job that truly made me happy, but I'm so glad I found it right here in Albany. I worked here for 26 years, and if I didn't love it, I wouldn't have done it. It's one of those things where life is short, and it's not worth wasting time doing something you don't love doing." Romancier learned about the Albany job by accident in 1993. "I was calling the pool to ask for the name of the company that built their chests, and Gus Arnzner [the then manager of the ACP] offered me his job saying he was moving," he said. "I applied for the position, and sure enough I got it." He was hired within the Greater Albany Public Schools. That changed in 2005, when the city assumed management of the community pool on the campus of South Albany High School, combining it in with the COOL Pool at Swanson Park and the paddle boats at Waverly Lake.
     All in all, Romancier was responsible for a staff greater than 60 people. "I was beyond lucky to have had such a great staff," he said. "It's just such a great community and everyone was happy to be here. Some businesses have trouble hiring, but not us."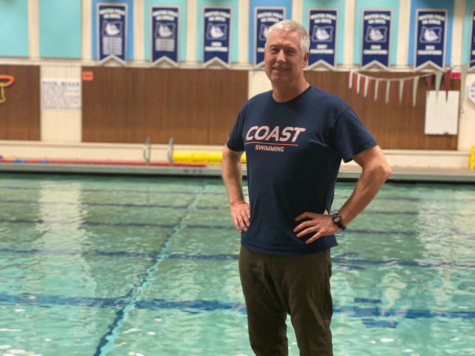 Romancier's career is one for the books. His Albany water polo teams, both boys and girls, have won numerous district and state titles. The teams' combined water polo record is 894 wins, 250 losses, and only 3 ties. He helped design the COOL Pool and helped turn the community pool into an official Air Force training site. But there have also been lean times due to budget cuts. There have been employee layoffs and a scramble to keep the pool funded. Closure has threatened it three times. When asked what his greatest and/or proudest accomplishment was, he replied "Keeping the place open. When I got here in '93, I got a pink slip for 3 years in a row saying the pool was going to be shut down. And so I fought with the city, got the support of the patrons as well as the support of Albany to keep the pool open."
     Although it was clear that packing up his belongings was difficult, Rob said he isn't sad about his decision to retire. "It's cool to have time to do the things I like. I can help people I couldn't help when I had a job and prior commitments, or learn to do things I never have before."