North Albany: Civil War
A Traffic Light on Crocker Lane has split North Albany residents in two, here's what we know
Since its initial creation, residents who live off of Crocker Lane have had a dent put in their day, every day, waiting for a chance to turn off the street onto Gibson Hill Road so they can make their daily commutes. But as of late last year, it seemed that their problem would be solved; a traffic light was installed on the intersection between Crocker Lane and Gibson Hill Road. No longer will they have to wait to make their used-to-be dreaded turn onto the road, or so they thought. It turns out, they might have to wait a little longer.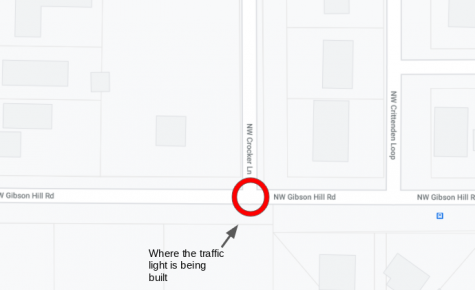 The construction group contracted to install the light, Emery & Sons Construction Group of Salem, Oregon, finished most of the project last fall, but due to some problems with shipping, a key part to this traffic light, a signal controller cabinet, was damaged, thus putting a temporary halt on the traffic light's ability to function.
"Most of the work is done except that we are waiting for the traffic signal controller cabinet to arrive," said Chris Cerklewski, the engineer in Albany Public Works overseeing the project, in an interview with the Hasso Hering on Nov. 19, 2020. "The manufacturer has pushed back the delivery date several times due to COVID-19 related delays in their supply chain. Since this cabinet controls the operation of the signal, work has been paused until it arrives."
"[…] the controller cabinet was received, but that it was damaged in shipping," said City Manager Peter Troedsson during his weekly report to the council on Jan. 22. "The manufacturer is providing a replacement, but the project completion date has been pushed to the end of March."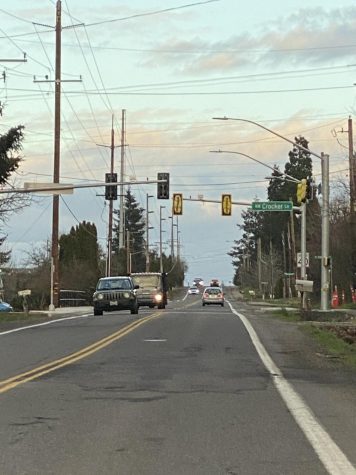 Though it seems the light is back on track to being built, residents have mixed feelings surrounding the construction project as well as Crocker Lane itself.
"I'm against the Traffic Light because it just complicates an intersection that used to be so simple," junior Nash Bending said. "I don't know if it will fix or cause problems, but it does seem like a waste of resources and time." However, junior Tommy Bernt likes the idea of a traffic light being put at the intersection.
"[The intersection] always seems to be busy," Bernt said. "The backup of traffic on Crocker Lane has always seemed to be affected by the stop sign [on Crocker Lane], and I think a 3-way lighted intersection will help traffic for Crocker Lane, and also allow any emergency vehicles from Albany Fire Station 14 to be able to get around traffic safer than with a single stop sign." Bernt also went on to say that "a lot of people who drive suck at it. Stop signs don't apply to them," to which Bernt went on to explain the benefits of having a Traffic Light.
English teacher Amber Ferguson agrees with Bernt. "I truly think that this will increase the safety of everyone on the road," Ferguson said. "I feel like that is a very dangerous intersection in a lot of ways. The visibility isn't great there, there are a lot of people who are turning down Crocker, many who go straight, Crittenden is right there with people coming out of that street, the speed limit is high on North Albany Road (45 I believe), etc., and I think there is a lot of potential for things to go wrong. I think that the light will absolutely make turning off of Crocker onto [Gibson Hill] a lot safer for everyone."
Though there is frustration, relief, and confusion all at once right now, we're just going to have to wait and see how it works out. Will it be for the better or for the worse?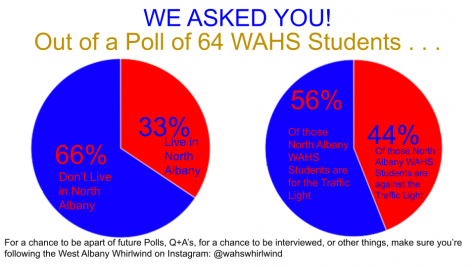 Writer's Note: I believe it is also important for all of our tax-paying readers to know that the cost for the project is "about $536,000. The costs are charged to new development in the area and will not be paid for with property taxes" as according to Marilyn Smith, a representative from the City of Albany, who said this on Thursday, June 18, 2020, on the City's Nextdoor page.