Justin Pohlschneider Profile
What alpine ski racing is and how Justin Pohlschneider made it to state.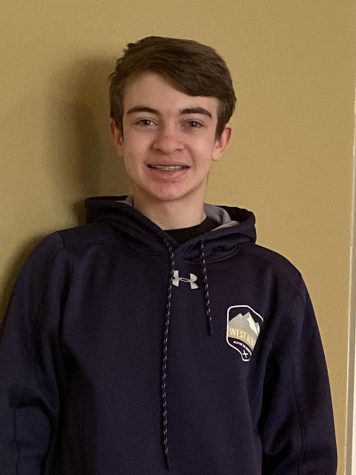 For sophomore Justin Pohlschneider, skiing is more than just a fun activity people do on the weekends. Instead of going up to Hoodoo Ski Area for a getaway, he goes up to race. Ski racing is a sport he's committed and, with lots of practice, he's pretty good at it—so good he landed a spot at the state competition this year. The state alpine downhill ski race competition was on March 3 and 4 at Mount Hood SkiBowl. Pohlschneider placed 48 out of approximately 101 people.  
What is ski racing? Does the alpine have significance in the sport?
Ski racing is a timed event. What happens is in a course, where you go down into the gates, you get timed on where you start and where you end. There are several variations of gate structures. I usually have to do two in my league. There's slalom that I do, and then there's giant slalom. With slalom it's much…smaller turns, it's a lot of quick decisions and finding the right line and getting through there. For giant slalom, it is much larger turns and it's all about line decisions and making sure that you don't ski out or lose your edge. 
When and why did you get into it?
I started skiing when I was four years old… My brother, when he went to the high school, he saw, 'Oh hey, there was a ski team like in the 90s' or something like that.' So then what he did was he started the ski team back up five years ago, although it was just him for a while. So then I joined him last year… We joined up with different teams from Central Oregon and Eugene for those years.  My brother [class of 2020 alumnus] Ethan has graduated, so I'm just the only one that's on the team for this year.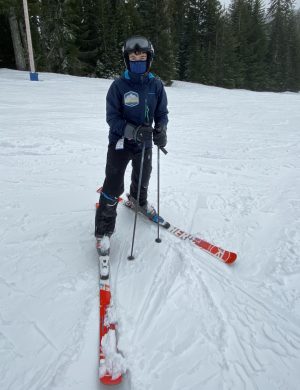 What team are you part of?
We're just West Albany ski team… Since we're just, like, one or two people, we joined up with Corvallis ski team… This year we had the Crescent Valley ski team join us because we're just all small teams.
Does West fund any of your traveling or gear?
It's all fundraised. We sell wreaths in the fall so that we can fund housing. But now there's COVID this year, so there's no housing or anything, we just go up and ski [and come back].
What would you say your favorite part about ski racing is?
I'd have to say it's the people I meet. There's just lots of people I can meet and find and ski with. Normally I just ski with my family, now I can actually have friends I can ski with and just hang out with. 
What does training look like, what kind of things do you focus on?
For training we really focus on your form. How you go down, and then how you're able to apply a lot of these techniques into the course. So for slalom…you just have the cross block, then just push out of the way so you can go faster and straight down the hill…It's all about applying edge pressure.
How dangerous would you say ski racing is? Have you got hurt?
Oh not at all. As long as you have the right helmet, which they enforce—it's just a special ski racing helmet. No one's really gotten hurt. It hurts a little bit if you crash on ice, but it's nothing that terrible. As long as you don't stick out your arms or limbs, but that's common knowledge that you're told all the time.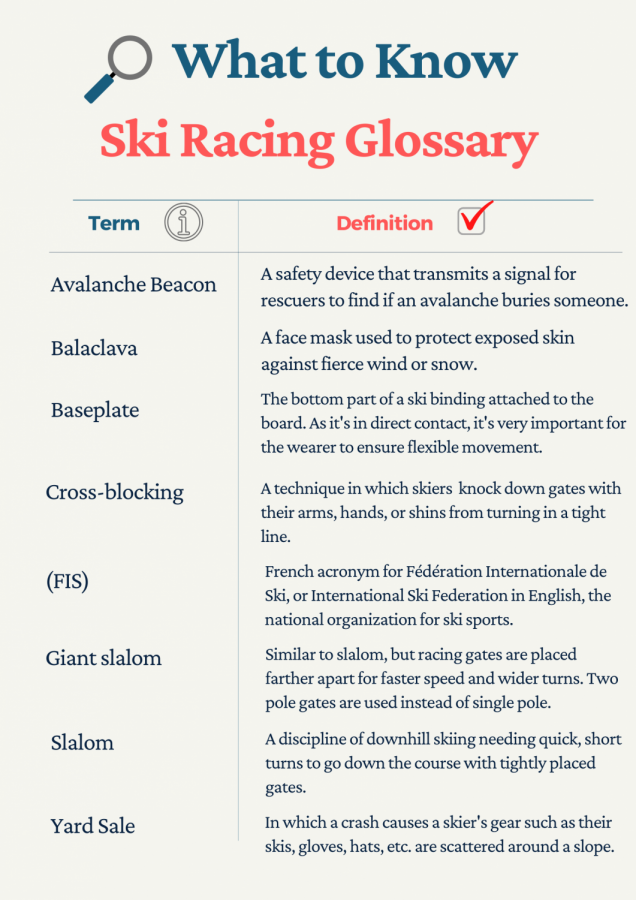 How are competitions set up?
It's set up where there's different seeds that people from each team are put in. So there's first seed, which is basically like, oh, let's say Corvallis, they have a first seed person, they go up ahead in front of other seeds. Second seed would go behind the first seed. Each 
team has their one seed, two seed, and three seed people, so they get all put together in their seeds. It's based on the placement they are in.
What did your progress look like to get you to state?
For each placement you get a certain amount of points. I think first place you get like 100 points and so on. I was able to make the cut for state by gaining enough points to qualify for it.
When you first started this sport, what kind of goals did you set for yourself?
I just set for myself to go ski fast and do it well. Have fun. I'm not too competitive, but it's all about the fun and the people you meet, the friendships you make.
Did you ever see yourself making it to state?
No, not at all. I didn't realize I would actually be making eight or ninth place in my races. It's kind of crazy, like I've actually gotten that far.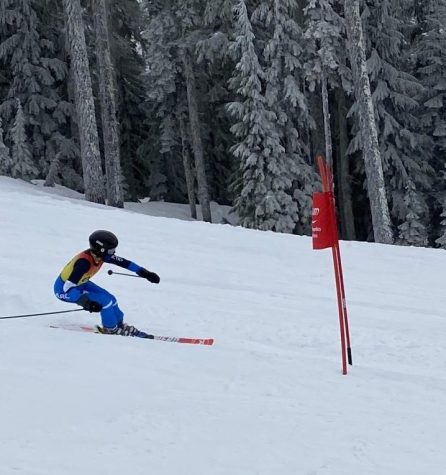 Anything about the sport or team you'd like to add?
One thing I'd really like to add is I want to try and get some more people this next coming year on the West Albany ski team because it's just been only one or two people on the team for like the past five years.
If you're interested in joining the ski team for next season, you can contact Pohlschneider at his school email: [email protected]