Big Portions, Small Stomachs
Why teen health is declining despite more education on nutrition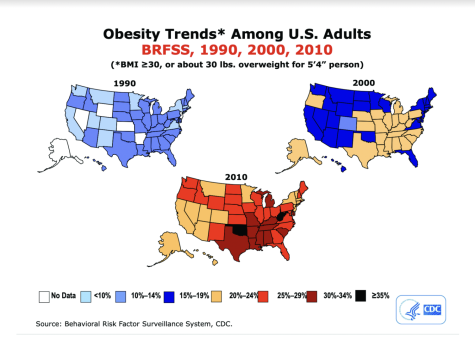 Bornheimer, set out a massive bowl of cereal at the beginning of this week and asked the class about their opinions. She noted that many of her students mentioned that they ate a similar amount of cereal at home and sometimes more on the weekends. 
 "Not one kid was like, 'Wow,' that bowl is way too big. That is not the bowl we use [at home], said Bornheimer 
     After listening to their feedback, Bornheimer asked her classes what could be contributing to the influences of an individual's fitness. The classes reached the consensus of a handful of factors leading to the increase of weight gain, including many factors such as genetics, an increase of sugary diets, the fact that the US is a richer country, and societal expectations.
     Recently, Health teacher Jennifer Bornheimer's class has been discussing the detrimental effects of the decline in teen health. Despite the surge of resources on health education, the wellness of most people has been declining in many ways. So, what's the issue?
     People forget to make a conscious effort for their health, often believing there are no consequences to the choices they make now. Similar to the exasperation we feel when we are unable to breathe properly when we have a stuffy nose, we don't consider our health until it is compromised, Bornheimer says. 
     Over the past 33 years, obesity rates throughout the US have skyrocketed, as reported by the CDC. Some common illnesses caused by unhealthy weight gain are hypertension (abnormally high blood pressure), heart disease, and strokes, the Australian Government Health Department found. 
     However, many people focus on one extreme end of the spectrum and neglect the other side. Many poor eating habits are caused by eating disorders. Both ends of the scale lead to severely damaging diseases over the length of time. 
     Alternatively, prevalent illnesses associated with extreme weight loss are malnutrition, decreased muscle strength, lack of energy/stamina, hypothermia, and lowered immunity reports the Health Department of the Australian Government.  
     Bornheimer notes that societal expectations and media portrayal plays a large subconscious role on (how much or how little) our dietary habits are shaped.  
     Many students rush out of the door in the mornings without grabbing something to eat or packing a meal for lunch. Hopefully, by teaching students about healthy eating in school, they will be more mindful of their eating habits. Bornheimer worries that after the "Healthy Eating" unit ends, students will disregard the information they were taught.  
   "One of the biggest concerns is that you have no control," Bornheimer said. "You are subject to whatever your parents or other responsible adults are providing for you." 
     If you're committed to a healthier lifestyle, set realistic goals and expectations for yourself. 
     "Baby steps…use a smaller plate for your next meal or give yourself a time. After nine o' clock, I'm going to go brush my teeth…I'm done eating for the day." Bornheimer advises as she pulls up a powerpoint with statistics of increased rates of obesity and eating disorders.  
     Meanwhile, junior Macy Bornheimer jokingly adds, "Eat more greens. No more fried food. Eat three [balanced] meals a day."Jennifer Bornheimer acknowledges that losing or gaining weight can be very difficult for people who are in high school. "Your average 15 to 18 year olds," Borheimer said, "that's really hard to do on your own."