Protesting racial injustice, hundreds flood Ellsworth Street
 Hundreds of people of all different races, colors, genders, and ways of life lined Ellsworth Street in downtown Albany on June 2, protesting the recent death of George Floyd at the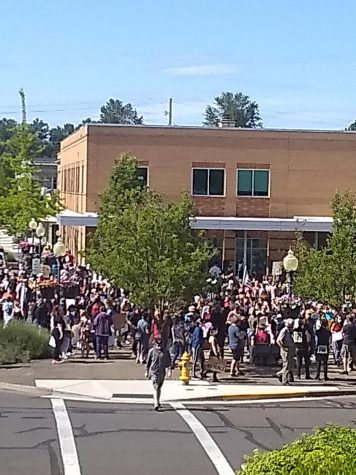 hands of police, police brutality in general, and demanding justice on behalf of the Black Lives Matter movement.
     Attendees ranged from the very young to a veteran of the Vietnam War in his 70s who asked not to be named, but who said his military service taught him to defend the constitutional rights of those around him. 
     "I will defend your constitutional rights to say whatever," the veteran said, "as well as the right to free assembly."
     Staff of the Greater Albany Public School district were present as well.
     "My nephew is black, and I worry how he is treated," said Jennifer Crow, elementary school teacher at Oak Grove Elementary. "It is time to recognize equal rights and have every person be represented. I have been quiet, but I won't be anymore."
     WAHS choir teacher Kate Caffarella was also there to protest and call for policy changes. "There needs to be a paradigm shift, and the policies in place need to change," Caffarella said.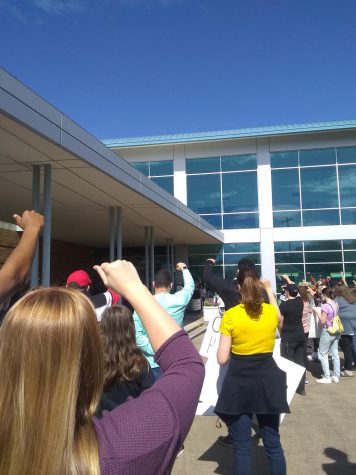 At 4 p.m., the protest moved to the City of Albany Courthouse for a speech from multiple speakers, where people stood and gathered. Heather Carmichael promoted a peaceful protest, saying the organizers did not condone violence and asking protestors to resist those that told them to destroy property. ¨Do not let anyone provoke you into stooping down to their level," Carmichael said.
     Other speakers included Carmichael's 17-year old son, L.J., who later said he liked the protest because of the voice it gave young people of color like him to speak up.   
    Though the vast majority of people protesting were for the Black Lives Matter movement, there were some around the protestors who did not support the movement. One such bystander, Cory Mills, said he didn't support the protest because of the possibility of Antifa causing violence as well as the disrupting effect the protest had on people driving through it. "This will piss a lot of people off," Mills said. "This will do more harm than good."
     "We [the protestors] are a tiny piece of sand in the cog to undo the injustice,"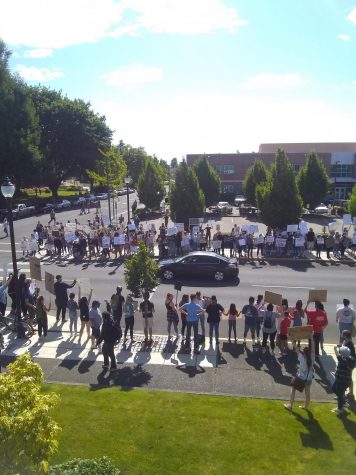 said one man at the protest. "They will turn the tides."
     One attendee drew a parallel to World War II and the Nazi's treatment of Jewish people to the current situation of the police's treatment of black people. 
     Another black man at the protest said the things he was protesting had been happening all his life, and he was 40 years old.
     Though many people of color were present at the protest, most attendees were white. The general sentiment among the white protestors was best described by one protestor, who said he was there for justice for George Floyd and for all people of color, but said his voice was less important than those of the people of color, and they were just allies. 
     "Deal with real truth," said speaker Earlean Whilson Phey. "We need systematic change."