GAPS a 1:1 District: How students benefit from checking out their own Chromebooks
GAPS being a 1:1 district means each student gets a Chromebook, which will greatly benefit students
Ever since the early 2010s, Chromebooks have been prevalent in schools. Kids use them for homework, to research assignments, and even to review notes. This past year, kids having Chromebooks and laptops has become more important than ever before. 
     Distance learning led the Greater Albany Public School District, or GAPS, to become a 1:1 district in terms of technology. Becoming a 1:1 district meant that every student from grades 2-12 who didn't have a laptop or Chromebook of their own were provided with a Chromebook from the district last fall when distance learning began due to the pandemic. Kindergarteners and first graders were provided ChromeTabs, essentially Chromebooks in the form of a tablet.
     The Chromebooks were checked out to students, according to Kerri Tatum, GAPS director of secondary education, and that practice will continue in the future as well.
     "It goes home and comes back, almost like a textbook," Tatum said. Each student having a Chromebook will be extremely beneficial to students, as so many assignments were online even before the pandemic. Having to specifically ask for physical copies of homework or assignments could be embarrassing for some students, but now they won't have to. 
     Not only will the students benefit, but the teachers will have a burden lifted from their shoulders. In the past, teachers had a limited amount of ChromeCarts, and they had to share that limited number with everyone else in their school. This has led to confusion in the past because if a teacher expected to have a ChromeCart for a specific lesson but another teacher grabbed it before them, the first teacher had to think of a way for their students to complete the same lesson in a completely different way. 
     A common concern is how excused absences will change. Days in which going into school is impossible will no longer stop students from advancing their education.
     "If you're on a college visit or you have an away game in Baker…you could somehow still attend class and not miss," Tatum said. "I think that there are some benefits to that."
     Being away from the school used to mean that a student would come back being anywhere from a day to two weeks behind in lessons. Now, students will be able to tune into school from anywhere that has WiFi, even if just to review a prerecorded lesson or look over the notes.
     Having things like prerecorded lessons and notes readily available will stop a lot of students from falling behind, as they'll have the capability to catch themselves up. 
     As for snow days, the surprise days off that students don't want to lose, those will likely still happen. They just won't get in the way of learning for more than a day or two.
     "A lot of times with snow days, teachers still need to be able to come into school, so it's not always just for buses," Tatum said. "Sometimes it's for people traveling [from] Marion County and Benton County… maybe the first [snow] day could be to regroup and then we go to distance learning for the other… days we're missing."
     Valuable concerns surrounding the 1:1 district model include how sick days will look. Students should not, and most likely will not, be required to attend school while sick. This is because sick students usually miss school in order to protect others as well as to give themselves time to recover. Teachers understand that while sick, kids won't be able to focus well or complete their tasks as well as they usually would be able to, so they won't be required to attend school from home. 
     Yet another worry is the cost in comparison to textbooks. If a student damages or loses a Chromebook, they'll most likely have to pay to replace it. However, when comparing the costs of a Chromebook with costs of textbooks, Chromebooks are actually cheaper. Chromebooks can be paid for by school districts for just $240 a year, while textbooks can cost up to $1,100 a year. Having just one Chromebook can contain a whole set of textbooks, meaning that Chromebooks are ultimately cheaper. Not only do Chromebooks save money, but they provide endless services for education. They give a whole world of knowledge at a student's fingertips.
     There's always the concern, as well, that students will use their Internet access to research and do things they aren't supposed to. However, Chromebooks don't allow any content to be downloaded, and all searches are safeguarded by parental controls. Any searches with words that raise red flags are immediately brought to the attention of the district through the filter they've set up. This may not stop a student from logging into their personal Google account and dodging the school's filters; however, that becomes up to the guardian of the child to monitor and is out of control of the district. 
     GAPS becoming a 1:1 district for technology means fewer students missing important school time because they're far away, and less stress on teachers to make everything simultaneously online and physical, as there are no longer kids who have no access to online copies of assignments. There's very little downsides to every student getting a Chromebook, most of them outweighed by the pros. Truly, fair education will be more accessible than ever. 
About the Writer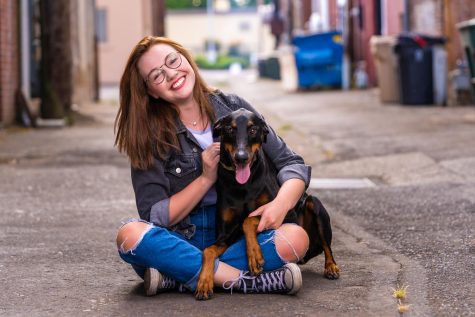 Samantha Mattingly, Managing Editor
This is my second year on staff, and I'm so excited to be a managing editor and can't wait to publish new stories this year. After this year I plan to...