'It's time for Adults to start acting like Adults': Parents Treat the GAPS District Harshly After Covid-19 Pushes Reopening Back
Some parents throughout the Greater Albany Public School district have become more critical of the district since the push back of school reopenings last month, becoming more vocal about their demand for kids to return to school.
    Originally, school was slated to return to on-site/hybrid learning by October, then the Covid-19 cases quickly rose and reopening was pushed back. The same happened for a supposed reopening on February 15th, but now school will be back in session by the 4th quarter of the school year. The many delays have left some parents and community members angry that their kids are missing out on a majority of the school year. District officials expected the response, as they know parents want their kids in school.
     "We expect that there's going to be plenty of people that are still upset or happy or are not upset," GAPS Communications Coordinator Andrew Tomsky said. "You know no matter what announcement we made it's obviously just the pandemic. It's such a difficulty."
     The pandemic has had a huge effect on Tomsky's job, and he feels that he can sympathize with some of the parents who are eager to have their kids back in school. But he remains firm in the fact that the district has done the best it can in response to the ever-changing situation.        
     "I feel like our superintendent, and the rest of our leadership have done everything in their power to keep people safe and make decisions based on what's best for our community, what's best for our students with the best for our families, what's best for our staff and teachers," Tomsky said.
     Even so, there are still many people who believe the precautions have been overkill in response to COVID-19. A few parents

regularly try to debunk the claims the district has made about virus transmission data and proper safety, often taking to social media to challenge the decisions. 
     "For those children who want to go back, why deny them the opportunity?" one comment on Facebook in the North Albany Happenings group stated. Another user commented, "Other school districts in Oregon have been open for full-time in person learning since the end of August." 
     Tomsky said, "Social media tends to kind of amplify the voices of people that are really upset." Apps like Facebook give people a platform to express their opinions freely.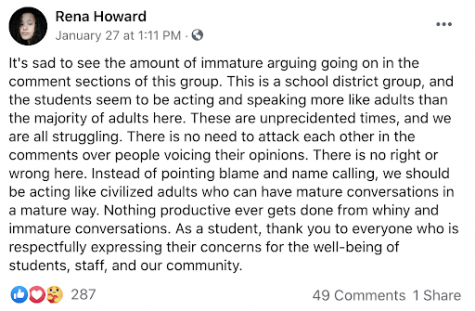 South Albany High School senior Rena Howard responded to a few adults by making a post on Facebook saying, "These are unprecedented times, and we are all struggling."
     Howard, who lives with her grandparents, said that she understands where some parents are coming from. Like a lot of people, they just want to push for a normal life again. Covid-19 has left many people physically and emotionally tired. "I've seen close friends of mine doing really poorly in online school because it's really hard to focus and really hard to learn. So I'm definitely for school going back." 
     "I take the precautions I need, I social distance from people, I wear my mask, I even got vaccinated because I work," Howard said, "so I am concerned, but at the same time, I know that I'm taking every precaution that I can in order to keep my grandparents safe."