Mat Chat: Wrestler shares about her wrestling career
Q&A with Mari Smith about her life as a wrestler.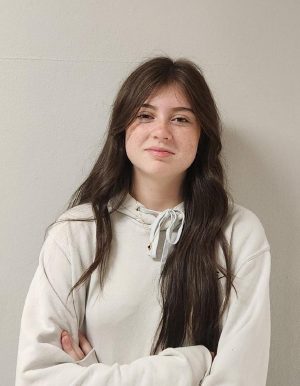 As your first year wrestling, how is the team dynamic?
Well, we are all very comfortable. It's just like a very close family. You could tell your team anything and they would support you.
How do you prepare yourself for a match, physically and mentally?
It's just about getting in the right headspace because wrestling is just as much mentally as it is physically. You can't go out there with fear because your opponent can recognize that fear. The coaches will always give us pep talks before the game. It's really just warming up and the support that prepares you to go out there.
Some people think that the wrestling coaches are very hardcore. What would you say to that?
I would say the coaches are hardcore but they're just trying to push you to do your best. I mean, the sport itself is very hardcore, so it's not necessarily the coaches, but more the sport that is pushing you.
If you were telling someone about wrestling, what's one thing you would say?
A lot of people are scared to join wrestling because of all the activity and conditioning, but in the end it feels great. There's always someone else going through it with you and it just creates a connection.
 Do you think you will be wrestling again?
I will definitely be wrestling again. I plan on doing it all four years. Everyone is just so supportive of you and they'll always cheer you on. They are just there for you throughout the whole season. It's just such a fun sport it's worth the work.