Justin Elliott Profile
How doing something he loved turned Justin Elliott from small jewelry maker to TikTok famous.
     Chasing a career that you love can seem like a scary thing, but former WAHS student, Justin Elliott, is proving that success can come from the most unexpected places. After videos of him making rings blew up on TikTok, a popular social media platform, he began to gain traction on the app, some of his videos reaching well over one million views. He has had hundreds of people, including well known influencers, reaching out in an attempt to get their hands on his work.
Q: When did you start making jewelry?
A: August of 2019
Q: What made you want to start making jewelry?
A: I just saw some youtube videos of people making rings and I was like, 'that looks really fun, I guess I'll try.' I was about to leave for college and I was going to school for band instrument repair and a lot of the tools that they use for making jewelry is also used for repairing instruments, so I just kind of started messing around.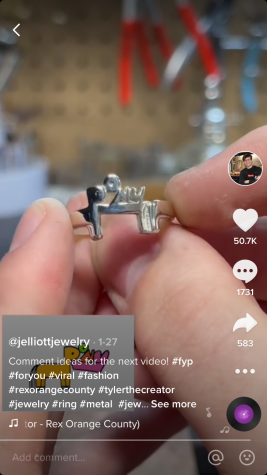 Q: What is your favorite piece that you've made?
A: I really like my Rex Orange County Pony ring. That's my favorite. Just because he's my favorite artist. I really like his music and I love that album. 
Q: What's it like making jewelry?
A: It's really fun. I started out doing super simple spoon rings. I would just go to Goodwill, look for some spoons, bend them, and turn them into rings. I enjoy the creativity, being able to turn something basic, like just a piece of silver, into whatever I want.
Q: What's it like running a small business?
A: It's pretty chaotic right now. I'm only just starting. I open up March 1 and I'm currently just trying to pump out as many rings as I can. It's pretty chaotic right now because I've never really done anything like this. I've just been running open commissions on my Instagram for awhile, but I just started my TikTok and then I had a bunch of videos blow up.
Q: What was it like blowing up on TikTok?
A: I was freaking out for like a good three days. I posted that video and within half an hour, I had like 800 views and then another hour goes by, I had 8,000 views. I was just sitting in the kitchen with my family, we're all sitting and refreshing my page and it was just jumping up by the thousands at that point. I had gotten to 25,000 within an hour. By the time I went to sleep, I had, I think, 50,000 views and I was freaking out. Then I woke up to 200,000 views and I couldn't believe that. Throughout the day I kept looking at it, I couldn't stop refreshing my notifications, it was crazy. I hit 800,000 views that day and then the next morning I had 1.1 million views.
Q: What experiences have you had with influencers?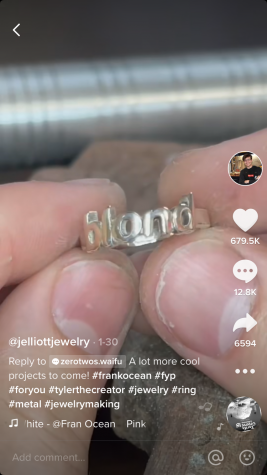 A: This tiktoker named Avani [Gregg], she has like 30 million followers on TikTok, she had followed me and commented on my video, and I was freaking out.This persons super famous and they're commenting on my video, like what the heck is this. And she followed me too, so that was crazy to me. 3 days after posting the Frank Ocean video, Tacoda Dubbs, the boyfriend of Kenzie Ziegler, DM'd me and he said 'Oh my gosh I have to have one of your Blond rings. My girlfriend loves Frank Ocean, I really wanna give her this ring, can I have this ring.' So I reached out to him and I sent him a ring for Kenzie. It's just super wild to see something that you make worn by an influencer that millions of people are following and trying to find out what kind of brand she's wearing. And one of her rings is made by me is just kind of crazy.
Q: Where do you see this going in the future?
A: I have no idea. At first I was just making videos because I enjoyed filming the process and now people want to buy my stuff. I'd love to continue making videos on TikTok, but I think it could become an established brand. I don't know, that's what I would like to happen is be able to just make jewelry that I think people would enjoy to wear.
Q: What advice do you have for people interested in starting their own small businesses?
A: My biggest piece of advice, right now, would be like if you enjoy doing something, just do it. When you're graduating high school, you just want to get a good job, you want to go to a good college. I love music, I love playing music, so I went to school for instrument repair. That's what I love to do, then when that didn't really work out I found something else I love to do. I kept doing that and I guess it's starting to work out for me. I think that's what I'd like everybody to hear is just do what you love to do.
If you're interested in checking out his work or even purchasing one of his rings for yourself, Elliott's store will be opening on March 1 and you can find the link to his store in his Instagram or TikTok bios.